Houses have gradually increased in size over the past few decades, and so have their garage spaces. It isn't just homes that are getting bigger though - most families now own larger vehicles. To accommodate these changes, garage door sizes have grown too. 
What this all means is that you'll be hard pressed to find a one-size-fits-all garage door. Additionally, there's the big question of whether or not you need a single or double garage door. This article will cover the standard garage door opening sizes that most homeowners will have, how to measure your garage door and what to do if you need a custom-sized garage door.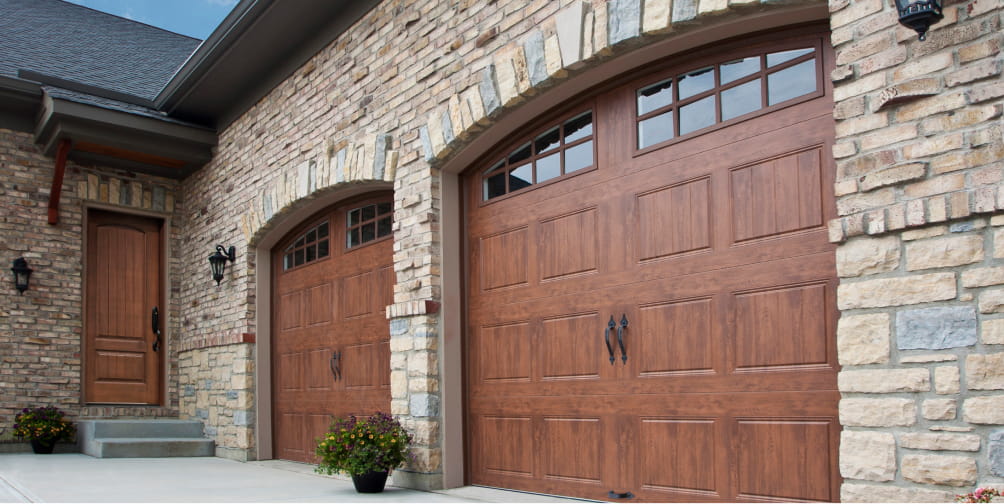 Standard Garage Door Opening Sizes
Single Garage Door Sizes
If you drive a standard-sized vehicle, you'll want a single garage door width between 8-10 feet. Standard single garage door sizes run: 
8 X 7 ft 

9 X 7 ft 

10 X 7 ft 
If your car's width is near the seven foot range or larger it may be able to pass through, but you'll have to be careful every time you park. Watch your side mirrors. Many vehicles have lost them to narrow garage doors.
Of course we install single garage doors for much bigger vehicles as well. For example, a single garage door for an RV measures 16 by 8 feet, to accommodate the extra width of the RV and all other extensions.
Even though most manufacturers tend to stick with these standard garage door sizes, some manufacturers use slightly different measurements. Before buying it's always better to confirm both the door opening of your garage, and the precise measurement of the door you wish to buy. This is where an experienced pro technician can help to ensure you get the right door to fit your single garage. If you have a door opening that doesn't conform to standard sizes, give us a call. We can find the right custom garage door for you.
Double Garage Door Sizes
As the name implies, these types of garage doors can usually fit in two standard-sized vehicles at the same time. Double garage door width ranges from 12-16 feet with standard two car garage size running either: 
12 X 7 ft

14 X 7 ft 

16 X 7 ft
Logic dictates that the size of the double garage door you choose should depend on the size of the vehicles you already have. So, if you have two smaller and compact cars, a 12 X 7 would do just fine. If you have two trucks, then perhaps go wider with your garage door size. Consult with a technician from Metro Garage Door if you're unsure which double garage door size is best for your needs.
How To Measure Your Garage Door Opening
Knowing your garage door opening size will help determine the type of door you'll need. There are a lot of mechanisms at work that aren't immediately visible. Here's what the garage door pros at Metro Garage Door suggest:
Start by measuring your garage door's structural opening. Measure the width from left to right without the trim. It's easiest to do this by running a tape measure along the ground between sides. Note any uneven areas or door jams that aren't square. Then measure the height from the garage floor to the top of the opening. Again, ignore any trim around the opening and note areas that are uneven.

Measure the distance from the top of the opening to the ceiling. You'll need enough clearance above to accommodate the garage door tracks and opening mechanism. 

Measure the width of the garage on either side of the opening. You'll need around 6" to accommodate the tracks if you don't already have them installed.

Measure the distance from your garage door opening to the back of your garage to ensure your car will have enough clearance once the door is installed.
When you call us with your measurements, we can get a good idea of the type of door you'll need and begin to walk through the process. If you have a standard-sized garage door opening, we should be able to get your door installed quickly.
Custom Garage Door Sizes
Most garage doors are designed with average homes and vehicles in mind. If you have a garage that doesn't conform to a standard garage door size or if you're thinking of designing a unique garage to meet your specific needs, we can customize a door to suit those needs. 
Whether you're a car collector, want to add a workshop or have another unique garage door requirement, the pros at Metro Garage Door can help you find an attractive and functional solution.
Find the Right Garage Door Size for Your Home
So, will the standard single or double garage door sizes work for you? This really depends on what sort of vehicles you drive and what you plan on doing with your garage. There is no one size fits all that'll accommodate everyone's needs. Luckily, Metro Garage has been matching homeowners with standard and custom-sized garage doors for over 40 years. If you need a new garage door, get in touch with our team today!